INTRODUCTION
 GBS Joint Stock Company is operating research, design and manufacture equipment and system in automation, measurement and control area.
GBS., Jsc. owns an experienced team, who have designed, integrated and made many specific measurement – control systems for military, oil & gas industry, build industry, hospitals, maritime… the GBS's strength is a system customize, system design and system integrate.
EXPERIENCE
Engineering staff with over 20 year experience in designing, integrating and supervising the manufacturing and assembling of devices, and measuring and controlling systems applied in petroleum exploration, military, civil engineering and maritime…
TECHNOLOGY
In recent years, our Research & Development Department has successfully researched and developed IT products, including softwares such as, Vesper software (applied in petroleum exploration and extraction), T252 (for receiving television signals), Carota Software…
CLIENTS
Since our establishment, GBS., JSC has earned great fame in the market. GBS products and services are widely used and highly appreciated by many organizations and business enterprises domestically and broadly.
FEATURED PRODUCTS
---
NEWS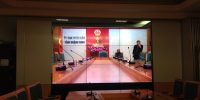 Tháng 1/2016, Công ty Cổ phần GBS đã cung cấp và triển khai lắp đặt hệ thống Video Wall [...]
Read More
PARTNER
---